In Versus, or PvP (Player vs Player), you play with your Hero against the defending Hero of other players. The defending Hero is built by other players but played by the game AI.
Within Versus there is a couple of different game modes to choose between. Each Tourney has its own League and cost to enter.
Quick Battle
Says it all in the name! A single battle against another players Hero.
Open Tourney
Enter an open Tourney and play against up to 6 Heroes each day. Your Top 10 highest scores from your Battles go towards your Total Score.
If you win multiple Battles in a row, you will get a Win Streak Bonus % added to your Score.
Restricted Tourney
Each week there is a Restricted Tourney, where only specific Gear and Minions can be equipped depending on the element for that week.
It also costs 300 Gold to enter the Restricted Tourney.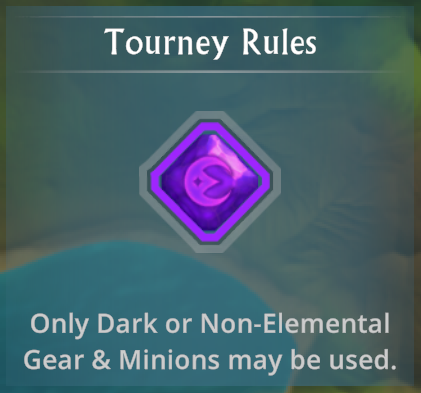 For example; Pictured above is a Dark Element (or non-elemental) week. Only Gear and Minions that have the Dark Element or no Element at all can be used in this week's Tourney
Elite Tourney
Similar to the standard Restricted Tourney, Elite Tourney also has requirements to be able to enter each week. To enter the Elite Tourney, your Hero needs to be at least Level 50 and meet the matching requirements listed for that week.
It costs 500 Gold to enter the Elite Tourney.
Here is an example of the Elite Tourney restrictions.